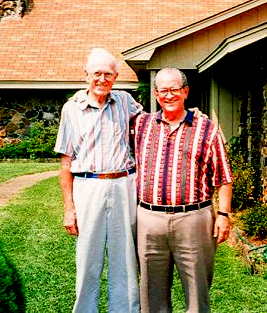 Jim's uncle, Joe Wroten (pictured on the right), was an attorney, State legislator, and judge in northern Mississippi. He was best known as a civil rights advocate in Mississippi during the passing of the Jim Crow laws, having been one of the two State House representatives voting to admit James Meredith to the University of Mississippi in 1962. His opposition to State sanctioned terror and hate was well known. See especially Yasuhiro Katagiri's book on the Mississippi State Sovereignty Commission.
In two separate projects, an oral history of Joseph E. Wroten was recorded, one by Yasuhiro Katagiri when he was at the University of Southern Mississippi and the other by Jeff Sainsbury at Mississippi State University. We are pleased to have access to both of these written transcripts.
Oral History of Joseph E. Wroten - USM
Oral History of Joseph E. Wroten - MSU
Dr. Yasuhiro Katagiri has recently published his new book, Black Freedom, White Resistance, and Red Menace: Civil Rights and Anticommunism in the Jim Crow South (Making the Modern South), which makes reference to Joseph E. Wroten.
Born of Conviction - 1963 Controversy
Jim's dad, J.D. Wroten, Jr (pictured above, on left), was Chairman of the Department of Religion, Millsaps College from 1951 until 1964, during some of the most difficult years of legalized segregation in the State of Mississippi. Many students from this progressive liberal arts college went on to become ministers in the United Methodist Church at a critical point in history. A controversy occurred in 1963, one year before Freedom Summer when 28 young ministers said "No" to the racism of the United Methodist Church, signing a statement demanding Freedom of the Pulpit and an end to segregated church sanctuaries in the UMC. This led to the diaspora from Mississippi of many of these young preachers, including my family in 1964. Though my father wasn't a signer of the "Born of Conviction" document, he was a known activist and teacher behind the scenes and he was concerned for the safety of his young family. Ironically, Dallas, Texas was safer and more moderate than Mississippi, even nine months after the assassination of President Kennedy. Joseph T. Reiff documented this controversy, in the Archives of the United Methodist Church (Methodist History, 49:3 - April 2011).
Conflicting Convictions in White Mississippi Methodism: the 1963 "Born of Conviction" Controversy
More about J.D. Wroten, Jr.
Jim recently scanned his dad's Doctoral dissertation, completed at Columbia Teacher's College with a dual major at Union Theological Seminary. The introductory chapters show how his early upbringing in rural segregated Mississippi influenced his later convictions.
James D. Wroten, Jr (1951). Experimental Development of a College Course on the Church and Society (Doctoral dissertation). Columbia University, New York City.
Obituary of James D. Wroten, Jr. (8/30/1919 - 10/9/2001)
Jim's Doctoral Dissertation
By popular demand, Jim's Doctoral Dissertation has been scanned and is available here for all to read.
Jim's Doctoral Dissertation was on the topic of animal learning, specifically learning under conditions of patterned frustration. It is presented in the following link: James D. Wroten, III (1974). Patterning and Resistance to Extinction in the Rat: The Effect of Providing Various Percentages and Sequences of Discriminative Cues on Nonrewarded Acquistion Trials. University of Southern Mississipp, Hattiesburg, MS.
Sermons of J.D. Wroten, Sr
Jim's Grandfather was a Methodist preacher in northern Mississippi. We are fortunate to have his sermons archived here.
8mm Family Movies
In the 1970s Jim's dad, J.D. Wroten, Jr. bought a Kodak standard 8mm movie camera. He loved making movie clips of friends and family and would often bring out the camera at gatherings and on trips. We got a chance to sit with him on Wednesday April 9, 1997 and watch these clips while they were transferred onto DV tape. We are very fortunate that he narrated this viewing session, because we have his voice-over comments about this otherwise silent movie format. The length is about 1hr, 40 min. There is some flicker, due to the inherent nature of the 8mm to DV conversion. To view the movie, please click the Play Button ">" in the grey toolbar below. The movie starts after some blank film leader plays.